All solicitors and lawyers have a requirement for high quality documentation in a simple and well-managed filing system. Many practices have historically managed their documents with paper copies and physical storage. However, with the increasing use of scanned and online-only documentation, it has become necessary for businesses to change their practices and move to digital documentation.
If you are interested in moving your system from physical storage to an online system, Images-On-Line can help. We have years of experience working with legal firms of all sizes from individual solicitors to large firms of lawyers. To begin working with us, please get in contact with us today. To learn more about the range of services we provide, please read on.
Solicitor document scanning
High quality document scanning is an important aspect of the digitisation of documents. We can provide document scanning for your files either at your premises or away from your site at our facility.
We work in full accordance with the relevant rules and regulations including the GDPR and the Data Protection Act 2018, so you can feel secure that your documents are handled securely and legally throughout the process. Moving from physical copies to digital documents can free up a great deal of space, as well as making your documentation easier to manage.
Solicitor and law document storage
Holding physical documentation over time can become a physical issue – simply have the space available for a large filing system can be very expensive to a business, let alone the time costs of sorting and managing paper files. That's why so many practices are moving their physical documentation over to a digital system.
For a solicitors' or lawyers' firm to feel confident in their digital documentation, it is important to have a storage system that they can trust. That's why we offer cloud storage options – this can be customised around your needs and requirements.
Shredding for lawyers and solicitors
We can also offer full shredding and document disposal services for operations of all sizes. Securely disposing of physical documents is a major challenge for businesses of all sizes, and this is something that Images-On-Line can handle for you. We have the ability to come to your premises and carrying out document destruction without moving files. Alternatively, we can minimise disruption to your business by moving the documents off-site for destruction.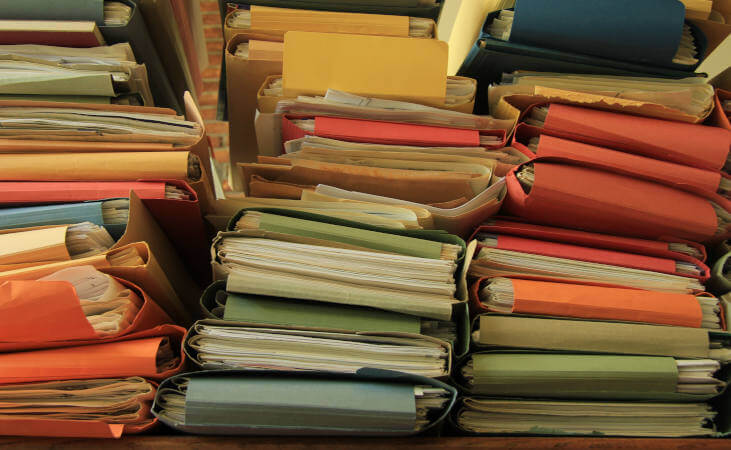 Frequently asked questions
Where can you provide document services?
Images-On-Line works across the UK, providing scanning, storage and shredding facilities to businesses and organisations. We are happy to work with you at your site or take documents to our own premises to complete the work.
Are you compliant with relevant regulations?
Yes. At Images-On-Line we work in accordance with all of the relevant laws and rules including the GDPR and the Data Protection Act 2018.