Cloud Storage & Retrieval for Documents
Your business could run far more efficiently and effectively if you had all of your files accessible at the click of a button 24/7, 365 day a year.
Images-On-Line offers comprehensive cloud storage facilities to make this happen for you. Once your records have been scanned, our innovative online solution offers this functionality and much more.
At a fraction of the cost of in-house systems our cloud based portal could be the key to instantly and securely accessing your records anywhere worldwide with internet access.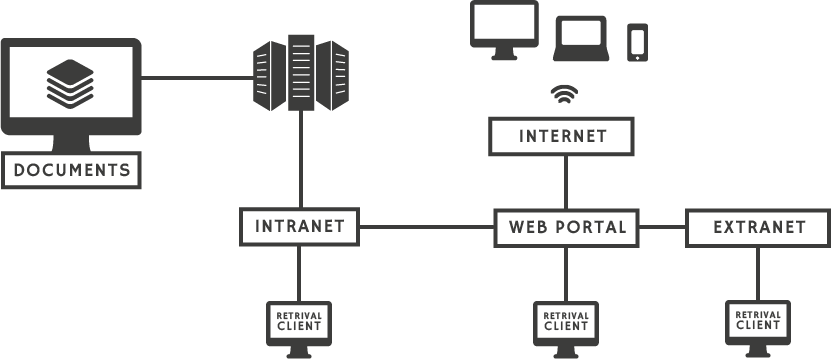 Our proven and robust Cloud Storage and Retrieval Solutions allow you to:
Have quick and convenient access to your archived digital files and documents.
Retain a self-contained secure database of your important documents.
Search, retrieve, edit, and print all your digital files and documents, from virtually any PC.
Save on time, resources and document storage space.
Allow remote workers to operate more effectively.
Web-based system benefits
Technology Proof
Highly resilient
Proven media, extremely long life
Legally admissible
Low cost
Space saving
Secure
Web-based Document Archiving
The ability to provide quick, accurate information is a decisive competitive factor, especially in the field of customer support. The objective of providing relevant customer information documents in a matter of seconds is key.
All scanned document images together with the relevant document index are stored on one of our secure file servers. Our innovative online document file storage and archiving system uses standard web browser technologies to give access to document information as efficiently as possible on the basis of existing Internet structures and to make it accessible to multiple users.
This is especially the case as more employees work remotely and need to be able to access data and documents from somewhere other than the office.
Access control via user groups regulates user authorisation in relation to individual document classes. This ensures that every user can only access document information for which he or she has appropriate authorisation.
One of the outstanding features of this online document system is its great flexibility in handling numerous types of documents and digital data files stored on a wide variety of media. Another of the decisive advantages is that the system is independent of location. Use of the Internet offers access to the required document information, with maximum flexibility, from anywhere in the world at any time of day or night, taking into account all the necessary multi-level security criteria.
Images-On-Line's system of hosting document data gives you instant, secure document file access, ensuring use of the latest developments in IT at a low, affordable cost.
Our web-based document retrieval system offers maximum performance and individuality and its multi-user capability permits application-based design of the search masks with variable search profiles. The system requires minimal installation; the only requirement is 'access to the Internet' and 'Adobe Acrobat Reader'. No technical knowledge or support is necessary.
Web-based system
Ideally suited for on-demand applications, the system is also invaluable in being able to provide real time access to records for work in progress and large scale back-file scanning projects spread over several months.