Cloud Storage & Retrieval for Documents
Accessing your files and data from anywhere in the world has never been more crucial today. At Images-On-Line, we believe that most businesses can operate far more efficiently and effectively if all their important documents were accessible 24/7, 365 days a year, with a simple click of a button.
Our secure, comprehensive cloud storage solutions allow you to instantly and conveniently access all the documents that you need. Our user-friendly online storage facilities don't just enable you to store, access and share your files from any device, but the data is regularly backed up and protected in a stable cloud environment.
Once your records have been scanned, our innovative online document management system offers this functionality and much more at a fraction of the cost of proprietary in-house storage systems.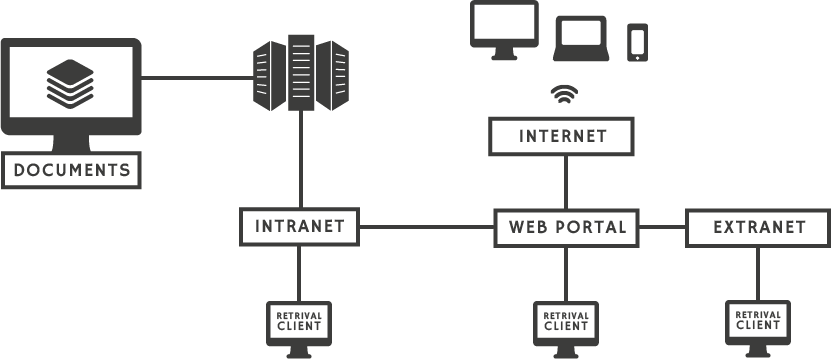 The flexible, cloud-based document storage portal from Images-On-Line could be your ticket to instantly and securely accessing your important records anywhere in the world, at any time that you need them.
With robust online cloud storage and retrieval solutions from Images-On-Line, you can:
Access your archived digital files and documents quickly and conveniently
Retain a self-contained secure database of all your important documents
Search, retrieve, edit, and print digital files and documents from any internet-connected device
Share large files and folders with colleagues, clients, and stakeholders with confidence
Save on time, resources, and document storage space
Allow remote workers to operate more effectively
Sync data between devices for reliable real-time access
Benefits of Our Cloud-Based Storage Solution
Our flexible cloud storage solutions can be configured exactly to your organisation's specifications and storage needs. You will find it to be:
Technology proof
Highly resilient
Proven media, extremely long life
Legally admissible
Low cost
Space-saving
Secure document storage
We offer flexible plans to meet every client's storage needs. We provide scalable online storage solutions with advanced administrative controls that give you as much flexibility as is needed across your enterprise.
Fast, Secure Access to Your Documents with Our Cloud Storage
In today's fast-paced business environment, quick and easy access to information is critical, particularly when addressing customer queries. At Images On-Line, our secure cloud document storage solution empowers your team to instantly retrieve customer information files and data from anywhere.
We digitise scanned paper documents and store the images and indexes on our encrypted servers. Our intuitive online document file storage and archiving system allows multiple authorised users to swiftly find and view documents from any web-enabled device. This cloud document management platform is integral for remote workers.
Advanced permissions ensure users only see documents relevant to their role and seniority level, supporting legal and regulatory compliance and confidentiality. The system is highly flexible, handling diverse file types across multiple storage media, and is accessible 24/7 from anywhere with an internet connection. The multi-level security criteria of each system is configured to ensure it works for any authorised user, independent of location.
Images-On-Line's document hosting system gives you instant, secure document file access, using the latest IT developments at a low, affordable cost.
With Images On-Line's web-based document retrieval platform, your team can:
Access time-critical files and data on demand
Rapidly serve customers with accurate, up-to-date information
Securely collaborate across locations without IT bottlenecks
Find documents easily with user-friendly interfaces and easy search functionality
Maintain regulatory compliance with strict access controls
Streamline document management without expensive servers or software.
Our secure, affordable cloud document management system and platform deploys quickly and scales easily as your needs grow. No technical knowledge or support is necessary – all you need is Adobe Acrobat Reader and an internet connection.
Contact our experts to learn more and request a demo.