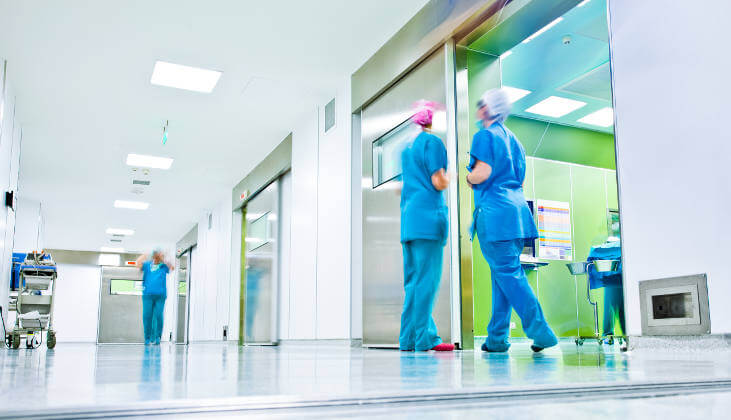 We work with a number of hospitals and clinics all of which have a regulatory obligation to store and maintain access to patient records.  Each hospital/clinic has its own bespoke requirement with the summary of a typical process described below.
The hospital undertakes procedures on an average of 260 patients per month, each resulting in a paper file consisting of 7 standard sections.  The records equate to 9 typical archive boxes in terms of storage.  We collect any discharged patients 1 month in arrears and accompanying the records is a spreadsheet (encrypted to enhance security) containing the details of the patients discharged in the month in question, i.e. Unique Hospital Number, Surname, 1st Name, D.O.B. and Date of Discharge.
The contents of the spreadsheet are copied into our bureau production software from which a unique barcode is created identifying each individual patient and this is attached to each file at the point of preparation, i.e. removal of staples and pins etc.
The files are now scanned and the unique barcode automatically recognised by the scanner and indexed accordingly into the 7 sections which make up the file.  At the end of the process the original spreadsheet is compared with the scanners output and any anomalies investigated further.  A report is then forwarded to the customer identifying these for further investigation by themselves.
Once scanned the records are loaded onto our on-line cloud based solution enabling the end users (usually nursing staff) instant access to records 24 hours per day.  Password controls restrict unauthorised access to the records.  If during the scanning period a file is required urgently by the hospital a request is sent identifying which box it will be in.  In turn it is extracted and scanned on-demand, thus allowing the hospital full access to the records during processing.