We were initially contacted in December via our contact form and after a subsequent and meaningful conversation with our prospective client were advised that they would be back in touch.  (not though in the short term).  In April we were contacted again and a site visit arranged to assess the project.  After evaluation and in conjunction with the contact it was established there would be in the region of 326 HR type files to scan and the processing would have to be done on site due to the confidentiality of files in question.
In May having submitted our proposal for evaluation we were advised that we had been chosen as the preferred supplier, again though we were unlikely to hear from the for 2 – 3 months.  In the interim we were advised that our original contact had left the organisation and the replacement would not be starting for a month or so.  Having had the opportunity to settle into the new role our new contact took up the reigns and it was at this point we were advised that a very tight deadline had been implemented to complete the project.
Our original contact was insistent that prior to commencing the project a member of staff (maybe a temp) would go through the files, removing any unnecessary documents whilst at the same time splitting the files into component parts.  I.e.
Onboarding & Preboarding
Contract & Contract Changes
Induction, Probation & Performance
Absence [Sickness, Holiday, Maternity etc…]
Miscellaneous
After discussing the project further, we agreed to undertake this part of the project as there were insufficient resources to oversee this in-house and the potential unreliability of temporary staff.
As with all customers both new and old we always try and accommodate the specific requirements and in turn a plan was formulated to move the project forward.
We moved on site with a view to first prepare the records for scanning i.e. removing unnecessary records and sorting into component parts. And later delivering the production scanner.

After moving on site it became clear that we had not been shown the full scope of the project at our initial meeting and a whole lot more paperwork was in various filing cabinets and drawers throughout the office.  In a lot of cases records which should have been filed in the original HR file had been randomly placed in drawers in no logical order.  We were then asked to resolve the filing conflict as part of our project management.
At the end of the project we found ourselves having scanned close to 600 files (original calculation being 326) together with a lot of unrelated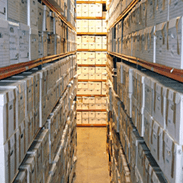 correspondence including payroll, right to work paperwork etc.
Physical Archiving
Now completed we also store the original hard copies in our extensive archive with barcode technology being used to track and trace the boxes in question.
'We really appreciate your support with this project; having the documents digitalised has been very beneficial for the business.'  Has been one of several complimentary comments from our customer
To contact Images on Line call 01293 541942
or use our enquiry link https://www.imagesonline.co.uk/contact/